Nada election on Thursday, who will win between Chaudhary and Thapa?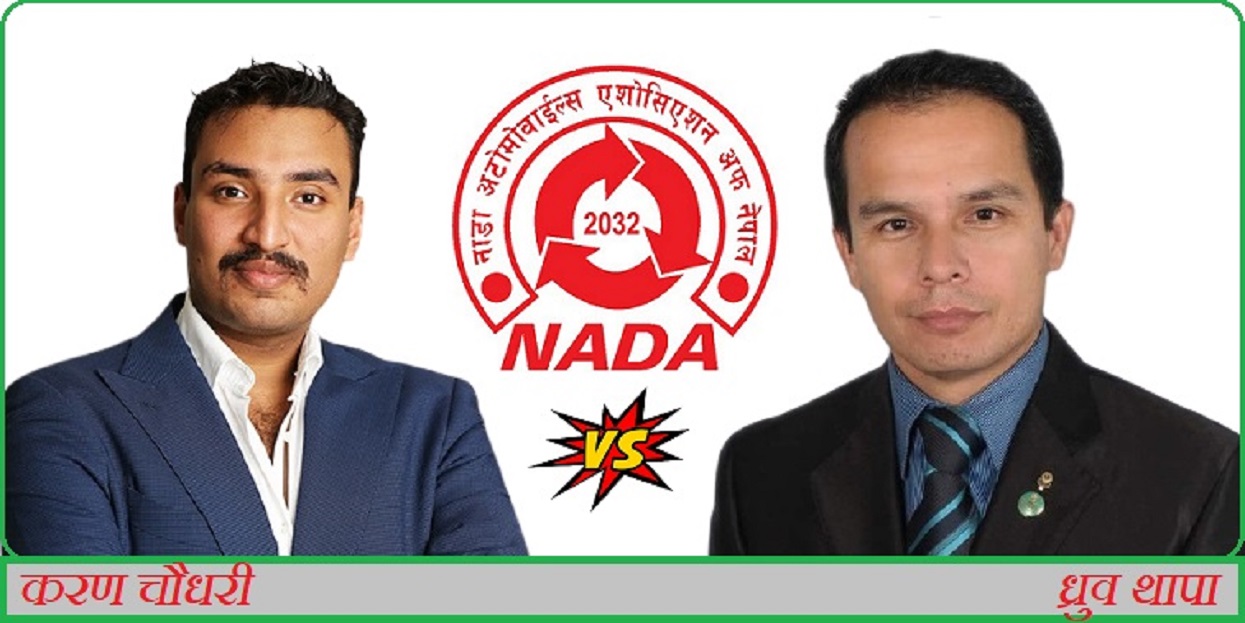 KATHMANDU: DEC. 7 – Two panels will compete for the new leadership of the NADA Automobiles Association of Nepal. Chairperson candidate Karan Chaudhary and Dhruva Thapa will compete from the panel. The 45th General Assembly of NADA is scheduled to be held on Wednesday, Dec. 8 and the next day on Dec. 9 from 8 am to 3 pm. For this, NADA has already published the final list of candidates on Sunday.
Only Chaudhary and Thapa have formed a panel and nominated candidates for the post. Similarly, 34 candidates have filed nominations for the post.
Rajan Babu Shrestha, Sunil Rijal, Surendra Kumar Upreti (Suresh), Anup Kumar Baral, Bikram Singhania, Nilmani Pathak (Ram), Prakash Kapuri, Milan Babu Malla, Abhik Jyoti, Pankaj Agrawal, Nishan Dhakal, Bardan Basnet, Gangaraj Bhattarai, Rajendra Kumar Agrawal, Barna Neupane, Gopal Bhattarai and Devraj Bhandari are member candidates from Chaudhary Panel.
Aakash Golchha, Nirakar Shrestha, Deepak Kumar Agrawal, Kapil Siwakoti, Shubhashish Thapaliya, Pradip Man Pradhan, Deepak Kumar Khaitan, Yamuna Shrestha, Amar Jyoti and Ranjit, Bhawanath Pathak (BN Pathak), Dipendra Kumar Mishra, Narayan Prasad Poudel (Rajan), Nawaraj Bhusal, Riddi Karki, Prakash Sigdel, and Sagun Bir Singh Kansakar are among the candidates from Thapa group.
Among the chairperson candidates, Makalu Khabar was informed by Chaudhary that now energetic youths with innovative thinking and concepts can give NADA a new leadership and the right destination.
Another chairperson candidate Thapa said that he has given his candidature for the post of the chairperson to bring the automobile businessmen who have not been included in the NADA leadership so far and have not been brought into the mainstream.
In the face of the election, there has been criticism and controversy over the distribution of membership in NADA. Bicycle entrepreneurs are also being protested saying that they have been made members of automobile entrepreneurs.
In such a situation, some businessmen have been saying that the result of the election to be held next Thursday will tell the future of NADA.